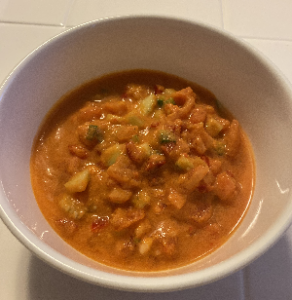 It's summer time! The sun is out and the weather is heating up. What better way to cool down than with a cool refreshing recipe that will be fun to make for your kids? It's always hard to get children to eat more vegetables, but this veggie packed soup will allow you to sneak in all the nutrients that are great for your child!
Crunchy vegetables are the best for your child's teeth! As they chew, the hard texture will help prevent things from sticking to their teeth, making it less likely for your child to get cavities. Of course, this doesn't mean that they don't have to brush - we don't like having things stick to our teeth!
Also, if your child is a picky eater, this soup gives new sensations that will make it fun to eat! It's colorful from the different vegetables, it has crunchy and soft textures, and best of all - it's a soup that's cold! We hope this simple recipe brings some fun into your kitchen!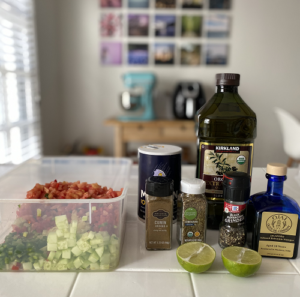 Summer Gazpacho
Prep time: 30 minutes
Total time: 2 hour 30 minutes
Servings: 6
Ingredients
4 large fresh tomatoes, peeled and diced (or 8 small fresh tomatoes)
1 pint cherry tomatoes (or 2 small fresh tomatoes)
1 cucumber, peeled and diced
1 red bell pepper, seeded and diced
1 jalapeno pepper, seeded and diced (can substitute for a green bell pepper if you do not want any spiciness)
2 cloves garlic, minced
1 teaspoon salt
1/2 teaspoon ground cumin
1 teaspoon dried oregano
freshly ground black pepper to taste
1/4 cup extra-virgin olive oil
1 lime, juiced
1 tablespoon balsamic vinegar
2 tablespoons thinly sliced fresh basil
Directions
Combine diced tomatoes, cucumber, bell pepper, jalapeno, and garlic in a large bowl. Stir in salt, cumin, oregano, and black pepper.
Place cherry tomatoes, olive oil, lime juice, and balsamic vinegar in a blender. Cover and puree until smooth. Pour pureed mixture into the tomato-cucumber mixture. Stir to combine.
Place 1/3 of the tomato mixture back into the blender. Cover and puree until smooth. Return pureed mixture to the remaining tomato mixture. Stir to cobine.
Cover and chill in the refrigerator for 2 hours.
Season cold soup with salt and black pepper to taste. Top with fresh basil. Enjoy!
Visit our Instagram page for an short instructional video of this recipe!